Creating a Relationship from the Job Interview Onwards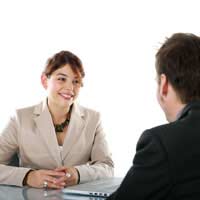 The job interview is usually the first meeting point for potential employer and employee. The interview isn't just a place for employees to sell their employment skills and experience. This can also be the place to lay the foundations of a good work relationship that can be built upon in the future.
Selling Yourself or Creating a Relationship?
Most job seekers have one thing on their minds when it comes to job interviews; win that job. This usually takes the approach of constantly selling their work skills and experiences. For many employers it is a refreshing change to actually interview someone who takes a breather to actually talk without the sales clichés. The CV has already done most of the selling; the interview should be used to build up a positive rapport with the potential employer.
See the Job Interviewer as a Friend
It is not uncommon for job seekers to suffer from nerves especially when it comes to talking to employers. Employers and recruiters are not ogres looking to trip up the employee with trick questions or looking to delve into every aspect of the employee's life. Employers can tell a lot about a job candidate simply from the way they hold a conversation.
Job seekers can get rid of the nerves by looking on interviewers as someone who is trying to help them on their career journey. Conversations should be professional but also friendly, relaxed, and open.
Ways to Build a Relationship at the Job Interview
Building a relationship during the job interview doesn't have to be a complicated process. This can come about by using a few tried and test relationship building methods including:
Be open to all questions; don't just stick exclusively to work related topics
Be open and honest about discussing long term career goals
Show the interviewer a degree of respect by listening to what they have to say
Be friendly, smile, and hold eye contact; this is an interview not an interrogation
Show an interest in what the interviewer has to say, do not just see them as your next wage slip
Try to find some common ground whether that is previous work experiences or even interests outside of work
Avoid yes and no answers to questions, these answers are not conversation builders
Why Build a Relationship at the Job Interview?
Relationship skills are extremely valuable especially in the workplace. If an employer views you as someone who can build a rapport with them at the interview stage then it should mean you can fit in easily with other colleagues. The ability to build relationships in the workplace does not come naturally to everyone, and employers do recognise this as a valuable skill. If a potential employee has good work experience skills plus good relationship skills this is a bonus for many employers.
The Importance of Nurturing Work Relationships
Nurturing relationships in the workplace does not take much effort and will be worthwhile in the long run. Work colleagues are people that you will spend a huge amount of time with and it makes sense to get to know them on a personal level. Good work relationship skills are similar to networking skills and should be built up throughout a career. Simply forsaking emails and actually conversing with colleagues in the workplace is a good way to begin building relationship skills.
Relationship Skills Build a Positive Image
Without trying to sound like a life coach it is true that good work relationship skills can enhance a person's image. Those employees who get on well with others and make the effort to be sociable are seen as approachable and they do promote a more positive image to others. It does not take a lot of effort to be friendly and approachable in the workplace. It is true to say that employees who make the most of their interpersonal relationship skills are likely to build successful long term careers.
Employees should view the interview process as the first chance to create good work relationships. Good relationships in the workplace can create opportunities from day one and in the future. Interview candidates should take the time to focus on this important skill when preparing for an interview. It may be all that is needed to give the edge over other candidates.
You might also like...