Bumping into Your Colleagues or Boss Outside of Work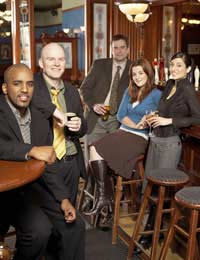 There is, of course, one big fat question to ask right at the beginning of this article…
Is It a Work Day?
If the answer is 'yes', then you really must think on your feet. Had you phoned in sick? Or have you been signed off for a while? Either way, this is not good. Assuming you are not wearing a suit and going off to an interview, the best idea would be to say you are going to the doctors. This is more tricky if you look great and are carrying shopping bags, but worth a go.
The Boss, On a Work Day, With Shopping Bags
This is even trickier if it is your boss. If it's a colleague you can try to keep them on side by saying, "Oh, I'm so pleased it's you – if I'd have bumped into Susan from HR she would have told the boss all about it!!" The hope being that they do not want to be seen as a sneak and will keep it to themselves. If, indeed, it is Susan from HR, you could try a similar tactic, even though you know she will be dying to drop you right in it, your approach may make her feel more included.
So, if it's your boss, try the 'going to the doctors' approach, or perhaps the pharmacy or supermarket to buy health giving potions such as chicken soup and orange juice. This will excuse you for being out, although try to play down that post-bargain hunting spring in your step.
It is worth pointing out here that the more you say, the guiltier you will look. Don't gabble about Lemsips and blankets and doctors and sore throats – it will be so obvious that you have been telling fibs. Just say you felt well enough to get some fresh air.
The best way to avoid this situation, as you know, is only to take time off that you are entitled to...
When It's Your day Off
If it isn't a work day, you've only got the embarrassment and irritation factor to deal with. If you tend to get on well with your boss, just say a friendly hello, perhaps a brief introduction if you are with your partner/family and then carry on with what you were doing. It is unlikely that they are wanting to spend more time with you than you are with them, so don't feel like you have to ask them to join your table. In fact, offering an invitation can be more embarrassing than not, because then it would be rude to say no, but neither of you really wants it anyway.
There may be an added ingredient to why you are uncomfortable bumping into your boss or colleague – perhaps you are in a relationship with someone at work they do not know about and you are seen together, or perhaps you maintain a highly professional attitude at work but are seen falling down drunk? Either way, don't forget you are entitled to behave as you wish outside work. That said, it would be wise for you to not go to a bar near your bosses home, or where you know they frequent. This is especially important if you are in a position of responsibility – a teacher, or policeman, say. Go out in a different town to that in which you work.
You may find that if you see a colleague or boss outside of work, they pretend not to see you. Even if you both know that, perhaps it's best to just go about your business.
You might also like...