My Boss Married My Work Colleague: Where Do I Stand?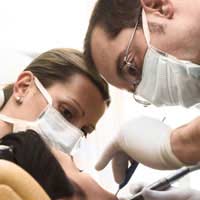 Q.
My boss of 10 years a dentist is marrying his dental nurse!
He is fine and has not changed. She has become the manager and I feel she does not like me as she never talks to me. I can tell she doesn't feel comfortable in my company. I feel like leaving but I get on really well with him?
What should I do?
(JP, 19 February 2009)

A.
It's not surprising that so many couples meet at work as everyone spends so much time there and I'm sure you know many marriages that have been formed from former colleagues. However, mixing personal and professional relationships is always a bit of a minefield – especially when it is your boss who is involved with a colleague.
In some companies there are strict policies laid out about how colleagues are not allowed to indulge in personal relationships and disciplinary action is taken if people ignore them. However, as it is your boss that it doing it, it's unlikely that such things are not in his rule book! There is no law that says that your boss cannot marry one of your colleagues, however there are laws to say that he must not discriminate against you, or any other employee because of it.
It is a bit of an awkward situation to be in, especially if you are also friends with the colleague. However, the fact that you have been working with your boss for 10 years means that you must know each other fairly well and have a certain level of mutual respect. Ideally, your boss should sit you down and talk through the situation, but if he doesn't then it is advisable for you to do so.
He is undoubtedly aware of the tricky situation and is probably embarrassed to bring it up. Approach the situation in a professional manner, raise any concerns that you may have and find out how he expects the situation to work. Hopefully, he will be able to alleviate your worries and your working relationship will continue as before. It would also be a good idea to talk to your colleague about it and make it clear that you don't expect her to be given any special treatment – but try to keep the conversation genial.
If, however, you feel that he is treating his new wife differently as an employee, or you think that you are being discriminated against then you have every right to take your complaint further. Seek professional advice and be clear that his personal relationships should have no bearing on his professional treatment of his staff.
You might also like...