How do we Deal with Our Selfish Team Member?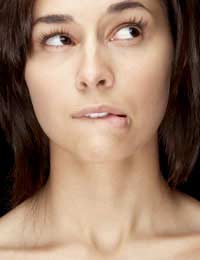 Q.We are a team of 2 women and 6 men. The other female is extremely attractive but does not perform. She is unreliable, lies, takes credit for others work, produces poor quality work and flirts with the boss.
We are all continuously cleaning up her careless mistakes. We have to because we are a team and would reflect badly on all of us if we let be. The boss is completely goo-goo ga ga over the girl in question and blind to all her short comings. We have just had our performance management review and she has an exceptional rating (big bonus and pay rise). All of ours is average. Everyone in the team is upset to say the least. We have tried to reveal her inadequacies subtly to the boss but like I said he is blind. This is a really dificult situation for us and we are not sure how to progress or take action without seeming spiteful, petty and creating bad feelings for bringing this up. What shall we do?
(J.B, 13 October 2008)

A.
Crikey, this is a tricky one. When the boss starts thinking with his heart rather than his head it can be very difficult to reason with him, especially as he is probably unaware of the favouritism.
An important thing to remember in this situation is that your boss may have a delicate ego – they often do. You need to be careful not to get so frustrated with the situation that you end up blurting out 'Just because you fancy her!' when she next gets praised in a meeting.
Take a deep breath and get strategic – you have the support of your colleagues and there is strength in numbers. That said, numbers can also be rather intimidating, so don't just barge into the boss's office en mass. Take some of these suggestions into consideration first.
Is It Really True?
Now, please take this in the spirit in which it is meant, but are you really being honest about the situation? Is she really underperforming that much? Is the boss really giving her that much more attention/money? Perhaps you and your colleagues have simply bonded over your shared annoyance at this pretty young thing. Maybe she is doing a really good job and you've let yourselves get irritated by her charms rather than trying to get along.
OK, she might just be flirting her way into the boss's good books and giving all hard working, professional young women a bad name (not to mention setting feminism back a few decades), in which case, read on.
Can You Speak To Another Manager?
If you and your colleagues have really, truly decided that she is getting unfair advantages at your expense, then you need to get help from a senior manager. No doubt other people in your company will have seen how she operates and, unless they are all shallow blokes dazzled by her simpering charms, you will be able to get some support.
There are already five of you, so you do not need to get people on your side, but it might be a good idea to talk to a senior manager, or HR and make it clear that you are unhappy and/or uncomfortable with the situation and that you plan to confront your boss. They may chose to get involved or not, but at least you will have made your intentions clear.
Stand Up For Yourselves
Good grief, there are five of you who all feel the same, you presumably are doing a good job (if not, perhaps that is an area to look into?). You need to stand up for yourselves in a professional manner. Ask to speak to your boss and explain how you are feeling – do not whinge though. You can't just say what this girl is doing wrong, or how unfair it all is, you need to say what you are doing well, how well you are performing in your jobs and how you are adding value to the company. It needs to be all about why you need to be treated better, not why she ought to be treated worse.
You might also like...