Christmas Gifts and Cards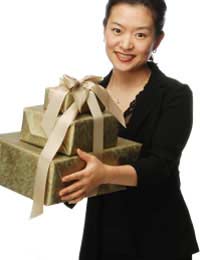 Christmas in the workplace can be terribly varied.
Some companies really go for it – lovely hampers, a smart Christmas party (on a work night!) with time to get ready and champagne all round. Others are all about working right up to Christmas Eve with not even an extra five minutes on your lunch break to get back from the shops.
Just to confuse the issue, some companies pretend they're big fans of the festive season, but actually they book the cheapest pub for a soggy turkey dinner and expect you to be grateful and buy all your own drinks.
Assess the Situation
If your office is one of the good ones, making you feel valued for your contribution throughout the year, rewarded with a bonus and bottle of something expensive, enjoy it. They are doing the right thing by making it clear that they appreciate their staff and are prepared to put their hands in their pockets to make sure you know.
If, however, your boss wouldn't even dream of letting you and your colleagues have so much as a cheap mince pie on your last day, then perhaps all those 'New Year, New You' type articles deserve a read.
Do You Feel Valued at Christmas?
Whilst we do not want to add two and two together and get seven, it is fair to say that how your boss treats his team at Christmas is illustrative of their views on the importance of employee satisfaction. Of course, there may be a religious or practical reason as to why your boss may ban Christmas, but if there isn't, most good or even half decent companies understand that Christmas is an important time to show your workers that you appreciate their hard work throughout the year.
If you are reading this because you would like some tips on what, if any, cards and gifts to give to your boss and/or colleagues, then let's start by saying it is a good idea to ask around other colleagues well before Christmas if this is your first festive season in your job. Looking too generous (and a bit of a teachers pet) is just as bad as looking too miserly when it is the done thing in your workplace to give cards and presents to everyone you've ever sat in a meeting with.
Ask for Advice
So, the best option is to have the foresight early on in the year to ask what tends to happen at Christmas in the office – ask the office manager, if they're approachable, or the receptionist, to get an honest explanation of whether it is a big deal or something that passes by with a few best wishes and a pub lunch. This way, you can be prepared, have cards and suitable presents in the right price bracket all wrapped and ready.
If you are only thinking about this in the middle of December and are none the wiser, the way forward would be to buy a few tasteful, suit-everyone type gifts, wrapped in your drawer and a packet of decent charity cards, all stealthily brought in to the office. You could have half a dozen presents like scented candles, a celebrity chef's latest book, a compilation CD or a bottle of wine. These presents can then either be offered in return, or given to aunts and uncles if not required at work.
This tactic also works year round for unforeseen birthdays.
All in all, it is better to adopt a more 'reactive' approach to cards and gifts in the workplace. We all know the colleagues who pass rounds cards to anyone and everyone, which is an unnecessary and wasteful practice. Nor do you wish to be all 'bah humbug', so get the balance right and you shall be both generous and appropriate.
You might also like...