How to avoid Becoming the Office Stereotype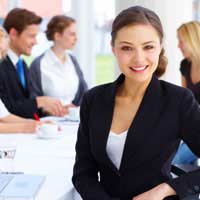 No one actually views themselves as an office stereotype; we all like to think of ourselves as individual and unique characters. Avoiding an office stereotype label means recognising how we are perceived by others and changing some of those defining traits.
What is an Office Stereotype?
A temporary employee who has worked in a number of offices could easily rattle off a list of office stereotypes. The usual suspects include the office dogsbody, the unapproachable co-worker, the yes-man, the boss's favourite and the office gossip. The list of office stereotypes is endless and there are reasons that these stereotypes exist. People love to label others; it makes co-workers easier to define. Unfortunately, once the label has been applied it can be very hard, but not impossible, to shake off.
The Importance of Not Being an Office Stereotype
Being perceived in a certain way can have a detrimental effect on career progression. The stereotypical office joker will be seen as far too lightweight to be given a job of much importance. The same can be said of the office slacker who comes in late, does the minimum of work and who's only motivation in the workplace is not to be fired. Any employee who is looking to make a long term career progression throughout a company should avoid having labels applied to them by co-workers.
Recognising Your Own Perceived Stereotype
After a certain amount of time employees will usually be able to recognise their place within a company. The role that is played in a company may be the only perception that colleagues have of an employee. The problem is it may not be easy to recognise yourself as a stereotype. Asking close work friends how they view your role and place in the work environment may bring up some answers.
Psychometric testing companies charge a lot of money for defining employee's personalities and roles within working environments. All that is really required is asking colleagues for their honest opinions. Taking a long hard look at your own interaction with colleagues can also be a way to gauge their perception.
Positive and Negative office stereotypes
Not all office stereotypes are negative. The firm but fair manager, and the friendly co-worker who is always ready to help are just two of the many positive office stereotypes. But again, simply because these seem to be positive stereotypes does not mean they will enhance career progression. Performance results in the workplace can go a long way to eliminating the aspects of a negative stereotype. In the business world, work results count and this may be the reason for the saying 'nice guys finish last'.
Breaking the Office Stereotype
There are a number of ways to change that office stereotype perception. Subtle changes are usually best but at the least make them noticeable. Changes will usually be based on the role played in the workplace, and the image perceived by work colleagues. Changes can include:
Becoming more self-aware of negative traits
Subtly beginning to promote a more professional image in manner and appearance
Take a step back from office politics and avoiding the gossip situations
Open up more to colleagues, become friendlier, and let them see the real person not the stereotype
Positive interaction within social settings is a good way to break down negative stereotype images
Avoid favouritism situations; be fair and helpful with all work colleagues
Show other aspects of personality to help break through the negative image seen by others
Showing some positive individual thinking will go a long way to breaking down a negative stereotype image
Avoid the Stereotype Label
There are employees who know exactly how to avoid becoming stuck in the stereotype rut. Standing up as individual in the workplace, having strong opinions, and not being afraid to view them when appropriate can help. Having a good sense of humour and not taking yourself too seriously will also be a bonus in the work environment. Don't try to change personality too much when it comes to work. In the end, this can simply come across as fake and co-workers will be able to identify this as defining trait.
A stereotype is a perception of an individual by a group that does not allow for the individual's full personality. Staying true to your own personality and characteristics should eliminate the need for co-workers to come up with their own ready to wear labels.
You might also like...