I Was Promoted Over a Friend: A Case Study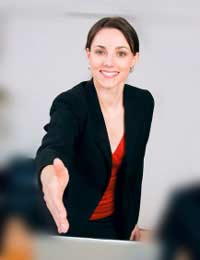 Joanne, 27, found herself in an awkward situation last year when she was promoted over her best friend at work.
"Joanne and I started in the same department at our company within 6 weeks of each other. We had both just come back from a gap year after graduating and so had a lot in common and hit it off straight away.
"We attended all our training together, took exams at the same time and supported each other as we got used to the big world of work. We were both fairly good at our jobs but I always found it a little bit easier than she did and got less stressed when faced with a difficult situation.
The Promotion
"Our company has a policy of promoting people every year as long as they have met the standards set. When you are at a lower level you generally always get promoted but as you progress they are more picky about who gets to the next level.
"Last year it came to promotion time and Joanne, as usual, was very nervous. She had been struggling with the workload a bit recently and hadn't always been able to complete projects on time. When the day came I was over the moon to find out that I had been promoted and also given a substantial pay rise. Unfortunately, Joanne didn't get such good news. She was told that she would have to wait for an appraisal in another 6 months before she would be considered and her pay was frozen.
"It was really difficult because I wanted to celebrate my achievement but had to hold back to comfort her. She tried to be excited for me but I could tell that she was devastated really."
Managing a Friend
Once Joanne started the new role it meant that she was now her friend's supervisor and she wasn't sure how to handle it.
"I hoped that being good friends would help us and that she wouldn't resent me telling her what to do. It hasn't been easy but I sat down and had a long chat with her about how we couldn't let it affect our friendship.
"We try to stay professional at work and I treat her like any other staff member. I think some other people do think I favour her but I make sure I don't. At the end of the day we both have our careers to think about but that doesn't mean we can't have fun outside of work."
We Still Have Fun
"When we meet up after work we can go back to our old selves and have a good gossip and catch up. She is still the person that I started this journey with years ago and we have a lot of shared history. However, we are careful now not to talk about work too much.
"Getting promoted over a friend is never easy as it upsets the balance that you are used to. However, I think that if you are good enough friends then you should be able to work it out. The new situation does take time to get used to but you have to learn to separate your personal and professional relationships."
You might also like...