How to Handle Going for a 'Welcome Drink' on Your First Day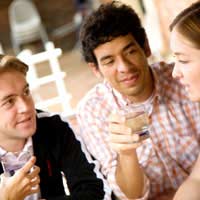 Your first day at work is stressful enough without having to endure the tradition known as a 'welcome drink'.It may be that employers forget how much there is to think about on your first day, let alone how tired you are by the end of it, but it is still very common to be invited for a social drink with some or all of your new colleagues.
This can be tricky for a number of reasons, so let's talk about what potential issues you may face and practical suggestions for how to deal with them.
You are Exhausted
It is perfectly possible that you will be very tired by the end of your first day – not only because you may have found it hard to get to sleep the night before, but because you will have had so many new things to take in during the day. On your first day it's not just the job that is now, it's the names of colleagues, where the coffee machine is, the telephone system and a new route to work that can all take it out of you.
If being tired is the only thing stopping from wanting to go, perhaps it would be a good idea to put your best foot forward and go for one drink. Say, 'I wasn't expecting this! A drink would be lovely'. You don't want to be the spoil sport and your colleagues will have their own lives to be getting home to, but a glass of wine or beer will be a good way to show willing.
You Have Already Made Plans
No-one mentioned that it was expected you would go for a welcome drink on your first day, so you are keen to get home. Your husband, mother or flatmate has promised that a glass of wine and a listening ear will be at the ready when you get home so you can tell all about your first day in your new job.
As soon as you know that your new colleagues were planning to take you out, just say 'I wasn't expecting this – my husband/mother/flatmate has cooked me a special meal. Can anyone make Thursday instead?' This stops you from looking stuck up, but doesn't disrupt your plans. Of course, if you would really like to go for a welcome drink and you have a very understanding person waiting for you at home, let them know you will be late home.
You Have Not Enjoyed Your First Day
If you can already tell that this new job is not for you and you would rather go home and cry/update your CV/drink a lot, you could make up an excuse. You could pretend that you are exhausted or have already made plans. You could also decide to go for a drink just in case everyone else feels the same – you may find a kindred spirit and together hatch a plan to set up your own business or find another company to join.
If you are pleased and flattered that your new colleagues want to take you out for a welcome drink on your first day, by all means go out and enjoy yourself. Have a quick spruce up in the ladies and get ready to talk to your new potential friends away from the office. However, do not make the fatal mistake of drinking too much – they will think you are a liability and not at all professional. You may say things you will regret and any flirting or snogging will no help your credibility or reputation.
You might also like...