Using the Internet in Work Time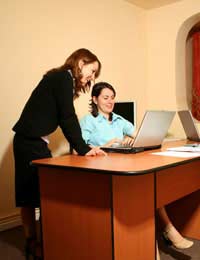 As vast numbers of us work at a desk, with a phone and a computer, it is inevitable that a little check of emails, a brief look at holiday destinations and a touch of online shopping slips into our working life.
Most companies understand that this happens. Some companies block particular types of website or do not allow personal emails to work addresses.
Check for an Official Internet Policy
Whatever your workplace policy on using the internet at work, there will be behaviour that is and is not acceptable. You could check your employee handbook for clarity on strict rules or speak to colleagues when you join to understand what is acceptable.
It is likely that you will be allowed to use the internet in your break and lunch time - there may still be restrictions as to what sites you can access, but most news, email or major online shops will tend to be acceptable. By all means check emails at lunch time or arrange to send some chocolates to your mother. What you must not do is sit surfing the internet all day and certainly not look at any even remotely possible dodgy sites.
You Won't Be Getting Away With It!
You may not be aware that all the websites you visit will be easily obtained, either from looking at your 'history' on your computer, or via the IT department. The odd look at a site or email provider will not be a problem, but if it is clear that you are regularly looking at internet auction sites, gossip pages or whatever in work time, you are soon to be found out. You can set your computer to 'clear history' on your internet preferences, which will remove the list of sites you have looked at and you can also set your preferences to not keep such information, however, this does not mean that your records are not kept elsewhere in your workplace.
Most companies have some IT provision, with larger organisations having whole teams of computer experts.
Are You Surfing For a Distraction?
The majority of people will tend to have access to the internet at home nowadays, so you may find that looking at the internet in work time is more of a distraction from your job rather than a necessity. Slow days and boss-on-holiday days happen, of course, and it can be tempting to catch up with your emails and find a new watch, but if you are regularly surfing instead of working, even though you know that you will be in trouble for it at some point, perhaps you should look at how you feel about your job, career progression and prospects.
The irony here is that the internet is a great resource for looking for a new job - all that information about interview techniques, recruitment agencies and updating your CV. Just bear in mind that getting a new job is far harder if you are not already in a job - so try to restrict your internet time to lunch times and weekends.
You might also like...