Two Jobs: Keeping Both Bosses Happy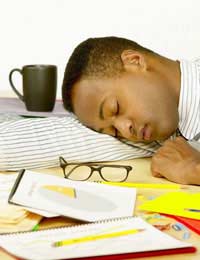 Working at two jobs can bring financial rewards but it can also bring added stress. Long hours at work and commuting can leave employees feeling burnt out, and decreased work performance may become apparent to employers.
The Price of Working Two Jobs
Working at one job can sometimes be stressful but working at two jobs is a definite way to increase stress. Feeling physically and mentally drained doesn't occur simply through excessive work hours. Commuting between home and two jobs in different locations can also add extra hours and extra stress. For some UK employees, a full time 9 to 5 job and then a part time evening job is a real working week. This leaves little time for much needed rest, relaxation and socialising.
Increasing Work Hours, Decreasing Work Performance
Working excessive hours can eventually lead to decreased work performance. Repetition and boredom at work are definite burnout factors. Being flexible and varying the work throughout the week should help avoid this. Even varying a work schedule slightly can stop the repetition setting in. Learning a different aspect of a job can be help to decrease the boredom factor and may well help to keep the bosses happy.
Make Time to Relax during Work Hours
It is important to get away from the computer or workstation throughout the day. Guidelines suggest that at least ten minutes away from a computer every hour will help the eyes relax. Fresh air and chatting with work colleagues will also do wonders when it comes to relieving stress. Taking breaks means that the mind can be refreshed every so often and should help to stop work errors occurring.
Plan Future Holiday Breaks
Having something to look forward to is a good stress reliever. Long weekend holidays every now and then can make a lot of difference for those who are working excessive hours. Getting completely away from it all will help combat the constant receptiveness that can come with two jobs. Mini breaks are just as effective as long holidays for refreshing the mind and refocusing once the working week recommences.
Health Related Problems and Excessive Work Hours
One of the biggest problems when working excessive hours is the tendency to fall into bad dietary habits. Employees who work two jobs are more likely to eat fast food options or simply snack throughout the day. A bad diet and no time for exercise can lead to poor concentration and feeling constantly fatigued. Tips to avoid unhealthy habits when working two jobs can include –
Avoid excessive caffeine in tea, coffee and soft drinks for that constant energy boost
Healthy energy options can include nuts, fruit, vegetables and low fat cereal bars
Avoid easy fast food options by taking fruit and home made meals to work
Set out a gym routine at set points throughout the week
Make sure to get enough sleep; too little will lead to constant fatigue and an inability to concentrate
Take time out to relax such as reading or talking to work colleagues and friends
Set Time Limits for Secondary Jobs
Most people will undertake two jobs to get them through a financially difficult period and then stop. Setting time limits for the second job will mean there is some light at the end of the tunnel. The thought of working excessive hours on a permanent basis can be depressing. Sooner or later a job burnout may occur at one or even both jobs. Working two jobs may be financially rewarding but if bosses are not happy it could mean losing one or even both jobs.
Don't Ignore the Burnout Warning Signs
Job burnout warning signs are easy to recognise but can be just as easy to ignore. Constantly feeling tired and irritable are two of the main warning signs. Frequent mistakes at work, which are noticed by colleagues and employers, is another warning sign of job burnout. Health issues will be a warning sign that should not be ignored. If these issues are recurring and a break won't solve the problem then it may be time to think of decreasing the excessive work hours.
Having two jobs can be a good short term option to bring in some extra cash. In the long run, work performance can decrease and employers will become aware of this. Following the previous guidelines should help to cut the likelihood of burnout and keep both bosses happy. If not, it may be time relieve some stress by eliminating that second job.
You might also like...