Guiding Without Being 'Bossy'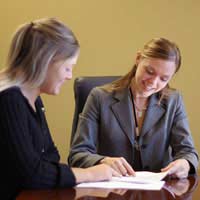 A good manager is able to get the best of their team, without bullying, having favourites or creating a stressful atmosphere.
If you are a team leader, line manager or director, you may want to make sure that you are a good manager – encouraging your team, getting the best results and constantly improving performance.
You will be aware that the success of your own job will be judged, in part, by the results and targets hit by your team and there may be financial rewards, too.
In order to identify what 'good guidance' is, we first need to illustrate the types of working environments, as acceptable behaviour varies considerably depending on what type of industry, sector and seniority you are employed in.
What Reputation Do You Want?
You could also think about how you wish to be regarded by your colleagues, bosses and staff, You may wish to foster a reputation as a friend or all round good egg, conversely you may enjoy your reputation as a bit of a tyrant or a hard task master. Be clear with yourself as to what type of manager you want to be and be honest with yourself about how your actions in the workplace will add to or detract from the reputation you desire.
The best way to provide effective guidance without being bossy (whatever constitutes acceptable or unacceptable 'bossiness' in your workplace) is to try to understand the motivations of your individual staff. These could be money, status, more time with family, career progression or a hundred other reasons. Once you are aware of what drives the members of your team, you will be able to appeal to them and maximise their productivity. You will also tend to have more committed, satisfied staff as their needs are being met, even if you do not make your understanding of their motivation public.
High Targets
Highly targeted working environments can cause great stress because most people who work in these environments are highly motivated (often by money) and keen to achieve their goals. If you are a manager in these circumstances, there may be more 'straightforward' or forceful methods of guidance than would be appropriate for more cerebral environments. In order to get the results you need but still be considered well in the workplace, if that is important to you, you could use the rewards that are available in these industries and target them to your team members' motivations.
High Expectations
In less financially target driven organisations, there will still be high expected targets in terms of performance, with many traditionally less target focused organisations, such as teaching, becoming rapidly more and more results driven. This can cause problems in the workplace because those staff that perform well in their day to day jobs may not respond well to the increasing pressure of hitting targets and completing ever increasing reports and paperwork.
If you are a manager in such an environment, it is for you to understand how to ensure you achieve the goals you are given while still getting the best from your staff. In order to offer guidance without being bossy, it is important for you to clarify to your team the importance and value of the structure and provide support in explaining it wherever possible. A good boss in these circumstances will not just say 'because it's the rules' or you will develop a resentful team.
You might also like...