Office Meetings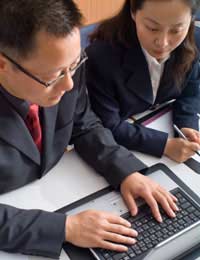 There are endless reasons why people have meetings in offices.
It may seem as though your office has meetings about meetings and you are getting frustrated with how much everything has to be talked about.
Your company may not schedule enough meetings and leave you feeling unclear of project development and goals.
If you feel strongly that not enough or too much emphasis is placed on workplace meetings, suggest to your team or line manager that you start a policy of 'Monday Morning Meetings', once a week only project updates or whatever you feel would redress the balance. Do not just criticise the present regime - offer a practical alternative.
Attending or Arranging the Meeting?
There is etiquette to both arranging and attending office meetings depending on your involvement in the project to be discussed and responsibility for organisation. Variations will include relaxed in-house meetings, important client meetings and meetings where heads will role.
In order to be as prepared as possible, try to find out the purpose of the meeting if this is not clear. If you are the organiser of the meeting, it would be beneficial to your team to send out an email beforehand clarifying the purpose of the assembly and what you hope will be gained from it.
If you are attending a meeting and receive such an email, allow time to think about how you can partake, what will be expected of you, what possible questions may be asked of you and how you can provide solutions to potential problems that will be discussed.
Meeting Etiquette
Part of office meeting etiquette is dependant on whether or not coffee or lunch is part of the meeting. It is increasingly common for 'working lunches' to happen in the office, where platters of sandwiches are brought in and eaten during the meetings. If you are uncomfortable with this arrangement, you can make sure you bring a cereal bar or fruit in with you in the morning to have after the meeting. If you are comfortable with this, don't just eat all the best sandwiches and not join in the meeting.
Practical advice in office meeting etiquette would include
Turn off your mobile - or at least have it on silent and go out of the room if you have to take the call
Arrive on time - especially if the meeting room is in another department
Be prepared to explain your part of the project - bring handouts if necessary
Pay extra attention to your professional appearance if the meeting is important
Have solutions to offer if the meeting is likely to discuss problems
Be clear about the goal of the meeting - a relaxed update or a desperate strategy?
Office Preparation
If the meeting will include clients, you must make sure that your colleagues are aware of that - it is far more professional if your receptionist is knowledgeable of who is due to arrive and greet them by name. Brief the office that clients will be visiting if that is not a common occurrence in your workplace - this may be a good time for a desk clearing drive.
You might also like...