The Great 'Making the Tea' Debate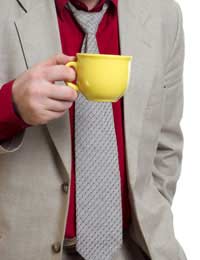 Some people who work in some places will not understand why this subject requires an article of its own.
Others will see the title and nod their heads in recognition of the trials and tribulations that our nation's favourite beverage can generate in the workplace.
If you are in the former group, this article may simply offer you an insight into the bizarre anthropological behaviour of your unknown tax-paying brothers and sisters, whereas those of you in the latter group will be keen to know how to deal with those ludicrous jokes and the joys of powdered milk.
A Few Minutes Away From Your Desk
First things first - making cups of tea at work can be a pleasant diversion from your 'To Do' list. A few minutes collecting cups, taking orders, waiting for the kettle to boil and so on is not too bad when the end of the day is hours away.
What makes it less pleasant are the subtle hints, grubby facilities and full to bursting bins covered in tea stains. Some work places may have super facilities - a lovely vending machine with proper coffee, or a canteen with jolly ladies and big kettles. Most don't though, sadly, so we shall be offering advice to cope with the grotty ones.
Hilarious Hints
Let's start with the 'funny' hints that your colleagues make so you 'get a round in' - you may have heard 'What letter comes after 's' and before 'u'?' across the desk as an innocuous but rather foolish question. 'T' you say back, helpfully. 'Lovely, milk and one sugar, please'. You've been had! These can be slightly amusing at first, but don't fall for it a second time. There are plenty more and you should learn to see them coming!
Filthy Conditions
What about the unpleasant facilities? You may think that giving it a good scrub and clearing out the 'student' fridge would be a good idea, but in reality you will just be expected to keep it up and your colleagues will not respect you for it. Find out if there is a cleaner in your office and ask them or the office manager if they are employed to clean the kitchen. Do not be tempted to put up a sign - you will look like a terrible busy body and nothing will change anyway.
When it comes to actually making the tea in these hopefully-by-now-less grotty facilities, do not expect tea or coffee like you make at home. The milk will only be out of date or powdered, possibly with the lid off. The tea bags will be the cheapest own brand or a massive bag of some random name that came free with the printer cartridges. The coffee will barely taste of coffee, it will make the weakest drink you have ever experienced.
The Rules of the Tea Dance
Some of your colleagues may have their 'own cup'. This is a sacred part of office life - do not give the wrong person the wrong cup!
From reading this you may, quite rightly, decide not to make hot beverages in the workplace, bring in your own flask of decent coffee and not get involved with it all. This is a wonderful idea, but will not gain you any supporters. Tea making in British offices is a dance that we must all learn and make sure we join in.
You might also like...