Attractions in the Workplace and How to Stay Focused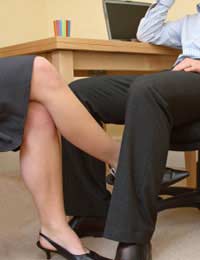 So, you've got your eye on the rather cute Craig in sales and have found yourself, on more than one occasion, swooning over him stirring his coffee without realising you were in full view of the office.
This may or may not be a big deal in your workplace, but regardless of the apparent acceptability of your behaviour, it will certainly not be doing your career any favours.
Research has shown that while developing close friendships at work can help your feelings of belonging and team work, relationships at work rarely deliver any professional development opportunities.
Let's assume that you are rather enjoying your crush on Craig but do not want to jeopardise your chances of promotion. As the title of this article suggests, we are looking for ways in which to stay focused on your job.
Here are a few hints and tips –
Do not conduct your flirting, whether reciprocated or not, in the full glare of the office.
Try to surreptitiously find out whether he (or she) has a partner, to avoid making a real fool of yourself, before you start actually flirting.
Take care to be vigilant with your projects, deadlines and meetings – however secretive you are, at least a colleague or two will know all about your crush and it will be an obvious reason for your lack of performance.
If he or she feels the same way as you and a relationship ensues, keep it totally professional at work. You will not generate such a reaction if you are respectful of your colleagues and only conduct your relationship outside of work.
Your swooning may be an indication of the fact that you are bored and unmotivated by your job – think if he or she would be quite so attractive if you were getting your teeth into a challenging, rewarding project – maybe this is a sign to look for something else.
If your team goes for Friday night drinks after work, be careful not to make an obvious show of your love interest, regardless of if they feel the same or not. By all means, do not feel you have to hide your relationship if it has become public knowledge, but it is unnecessary to make your colleagues feel uncomfortable in your company – go to a restaurant together after the drinks.
If you never allowed your crush to become public knowledge, if he or she does not feel the same, or they do for a week or two and then it's all over as soon as it began, you will not have to deal with the embarrassment and unprofessional behaviour of everyone knowing your business.
It is important not to underestimate the joys of a little workplace crush, so as long as you do not allow it to get in the way of your day to day job, embarrass your colleagues or make a fool of yourself by fawning all over someone with a wife and children with no intention of leaving them for the girl in Finance who follows him round all the time, just keep your daydreams to yourself and let them help pass the quiet moments.
You might also like...