How To Make Your Office Romance a Success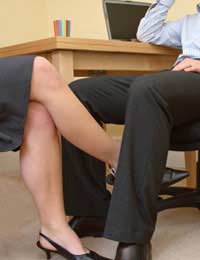 Over seventy percent of us meet our future partners in the work place, so as much as employers may try to discourage office romances, they are a very real part of our working lives.
Having a relationship at work is not necessarily advisable as the best way to go about getting noticed at work – it is unlikely to help you get a promotion – but if you are having an office romance, here are a few tips to help you make it a success – without jeopardising your career.
Don't Gossip About Your Relationship at Work
Even if you work with your very best friends and your boss seems to like hearing all about your relationship, keep quiet. No one will respect you for talking about your office romance and it is likely to embarrass them. If you do split up, it will make it far harder to stay in the same job as you will have given your colleagues a blow by blow account of your relationship.
Don't Arrive Together in the Mornings
Unless you end up getting married, don't flaunt your relationship in the workplace. Even if your colleagues know that you are having a romance with a work mate, if you just go about your business as usual, you will be able to keep your work life and love life separate.
Don't Give Them an Unfair Advantage
If the object of your affection is in your team, be careful not to give them an unfair advantage, or indeed to make them work harder than anyone else. It will make your relationship even more obvious and will annoy your colleagues.
Don't Have Any Physical Contact at Work
There are very few things more embarrassing than walking in on your colleagues kissing (especially if one of them is your boss!), although getting caught with your skirt tucked in your knickers or realising you had a bogey all through your first date do come pretty close. Anyway, the rule is, no physical contact at work – not even at lunch time as you are bound to bump into someone from your office buying a sandwich.
Do Check Your Employment Contract
Some companies actually have a rule about 'no office romances' in their employee contracts, so make sure you are not committing gross misconduct.
Do Get To Know Each Other Outside Work
You can't have a proper relationship, rather than just a quick office fling, if you only see each other in work. Offices and work places can be heady environments – just ask any teacher and they will tell you about all the staff room smooching, let alone the passion fuelled by hitting a big bonus in a corporate office. Spend time getting to know each other in your own time, away from the places where your colleagues hang out after work. That way, you can see if the relationship has the potential to go somewhere before everyone knows about your private life.
Do Be Honest If Your Boss Asks You
If you don't act guilty or embarrassed, it is harder for your boss or colleagues to make a big deal out of your office romance. Just keep it low key and get on with your work at least as well as you did before. If your boss asks you straight out if you are having a relationship with Barry from Accounts, say that you've just started seeing each other and it will not affect your work.
You might also like...