Company Policies on Office Romance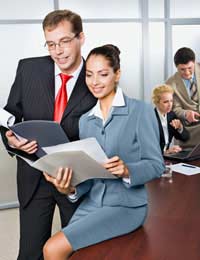 Office romances are generally not encouraged in the workplace for a number of reasons – they can make other employees uncomfortable, they can blur the line between deserved promotion and favouritism and, when relationships fail, can allow for vicious claims of harassment and discrimination.
This would explain why it is actually becoming more popular for companies to make it clear in their employee handbooks that such relationships will not be tolerated in their companies.
Make Sure You Read Your Employee Handbook
You would be wise to acquaint yourself with your employee handbook on this issue before embarking on a public relationship with a colleague, especially if you are in a job you value and aim to continue in the same industry. Such reputations can be very hard, if not impossible to lose, which will certainly not support your professional development. Be aware, also, that in many professions people of different companies know each other, so even if you move organisations, your reputation may follow you.
It is important to be honest here; this is not a legal advice website, although you may wish to ensure that your behaviour complies with the legal guidelines of your contract.
This is more of an informal, real life advice article, with the intended aim to be to offer practical, realistic suggestions and guidance.
Real Information is More Likely to be Unspoken in the Workplace
You will probably find that your employee handbook or contract makes no mention of office romances or relationships, in which case it may be a good idea to observe senior colleagues and act in the manner in which they conduct themselves, at least until you are confident that you understand the unspoken rules of behaviour that exist in every workplace.
The only formal mention of office relationships in your handbook or contract may simply state that employees cannot have relationships with staff for whom they are directly responsible for, such as managers and staff in a particular department. It is likely that you will be expected to respect the office environment and not allow any relationship to become public or be seen to cross what is essentially an invisible line, but one which exists none the less.
Don't Air Your Laundry in Public
If you begin an office romance, be aware that you are conducting your personal life in a very public, professional setting. You must take extra care to not bring arguments, disagreements or inappropriate personal details into the office. In order to allow your colleagues to continue to take you seriously and respect your personal life, you must make sure that you do not abuse this trust when otherwise you may have discussed your romances with your colleagues. Give your relationship the privacy and respect it deserves and your colleagues should follow suit – if you come in with red eyes after an argument and proceed to tell everyone all about it over the water cooler, do not be surprised if your colleagues and bosses do not feel as though you are focused on your job. If you are careful, you can retain your excellent professional reputation and enjoy a fulfilling relationship.
You might also like...