Do's and Don'ts of Office Flirting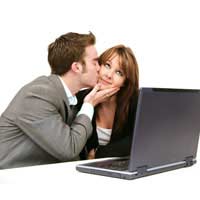 You will not be surprised to learn that there are more 'don'ts' than 'do's' with regards to flirting in the workplace.
Although studies have shown that around 40% of us meet our prospective partners at work, snapping at the heels of friends of friends, holidays, the supermarket and the gym as the place to meet your significant other.
With so many hours being spent at work, it is inevitable that you will meet people there that will potentially become important to you – friends, colleagues and partners.
What is key, here, is what is and isn't acceptable when it comes to flirting at work.
So, in the spirit of romance, let's start with the list of 'do's', even though it will be the shortest list!
Do –
Be friendly to everyone – do not make your favourites obvious!
Aim to keep your home life and your work life separate
Observe your colleague to understand appropriate behaviour in your particular workplace
Sneakily ask the office gossip who is going out with whom so you don't step on anyone's toes or say something inappropriate
Now for the 'don'ts'
Don't –
Forget you are at work – nobody wants to walk in on you in a meeting room in a state of undress/embarrassing embrace if your flirting goes that bit further!
Make it really obvious if you start a work place relationship – don't always have lunch together, say 'we' or come in at the same time
Tell everyone about your crush – if your feelings are not reciprocated, everyone will know. Even when the crush passes, no one will forget
Get soppy at work – no hand-holding or smooching
Take things at face value – your boss may say they are happy about your relationship with Barry from accounts, but don't expect them to respect you professionally
Think people don't know – they will
Take your eye off the ball at work – if you start letting your standards slip because you are swooning over the object of your affection, you will be heavily criticised
There are likely to be unspoken rules of acceptable flirting in your workplace, most likely dominated by the type of environment – corporate, creative, traditional. It would be advisable to observe your colleagues and the ways in which more senior members conduct themselves in order for you to maintain appropriate behaviour.
Don't forget the bizarre workplace dichotomy of bosses seemingly encouraging flirting – Friday night drinks, cute nicknames, physical contact – on a day to day basis themselves, yet they would not wish for any actual relationships to happen at work.
It may be that the bonding nature of close, flirtatious relationships is encouraged, yet anything more serious than that is frowned upon.
There is also the 'strategic' flirting so often seen in offices that may either be quietly accepted, and perhaps enjoyed, or considered totally undermining and cheap. Again, this is a situation where close observation of respected colleagues will be valuable to your own reputation. You do not want to be seen as uptight, judgemental or critical, nor do you wish to gain a reputation as a tart, a bimbo or depraved. So, if workmates tend to be quite tactile, or affectionate with each other, feel free to join in. This, of course, is only if you feel comfortable with it – don't behave in any way in which you are not happy, regardless of the 'done thing' in your office – maybe the job isn't for you, or perhaps you would just prefer to let your colleagues behave in this way and, whilst not passing judgement, get on with your own work.
If you have a private, flirtatious relationship with a colleague that you feel has the potential to be very important to you, perhaps you should reassess the value of your relationship and the value of your job. If it is the job of your dreams and the flirtation is just a little bit of fun, you may chose to back off and let it fizzle out. If, however, your job is just filling time, paying the bills and not something you see as 'irreplaceable' and the potential relationship could bring you great happiness for many years, then go for it!
You might also like...