How to Survive Employee Team Building Events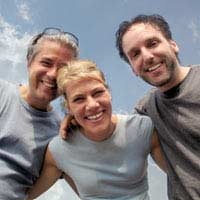 Corporate team building events are a multi-million pound business in the UK that are either loved or loathed by employees. For employees who recoil in horror at the words 'role play' there are tactics that can be used in order to survive team building events.
Team Building Events and Employee Motivation
Team building events are often rolled out by employers as a last ditch attempt to build team spirit and boost motivation - although there are positive points such as bringing employees together as a single group there also plenty of negative aspects. It has been well documented that employees loath team building exercises and games.
If motivation is down in the workplace then throwing bean bags or role playing with different coloured hats on will generally not be greeted favourably by employees.
Why Certain Employees Dislike Team Building
Anxiety has been stated as one of the major reasons from employees who are less than happy at the prospect of team building events. Public speaking and role playing are not high on some employees' CVs. Actually being forced by an employer to take part can be a nerve wracking experience for employees. Building team trust through these games can also be futile if the employee does not actually like or believe in the benefits of team building events.
Surviving the Team Building Day
The employer will usually have spent a lot of money on organising the team building event. In most cases they will be receiving feedback from the team building organiser on employees as a group or sometimes as individuals. This can be an added source of worry for employees, especially those who are less than happy about the event. The first rule for employees when facing the dreaded team building day is to stop focusing on the negative aspects. Over analysing the event will only cause more stress and will make the event seem more serious than it actually is.
To Participate In Team Games or Not
In most cases an experienced team event organiser will not force employees to participate if they feel uncomfortable. They will also know not to make employees feel guilty if they do not participate in certain team games. The employee feel good factor is a big part of team building events and failing to do this will be a black mark against the organiser not the employee.
Employees should not feel guilty or self conscious about not participating; do not be scared to make your views known.
Team Building Not Team Torture
Although some employees do equate team building events as a day of torture they are never really that bad. Yes they are a day or two away from the workplace and this can be looked on as a positive aspect. The employer has paid for this event but the employee should not feel obligated to act in a certain way to provide positive feedback. Any pressure at team building events will be with the organiser to make it a success not the employee.
Don't Worry About Feedback
Feedback for employers from team building organisers will usually come as part of the event. Many employees who do not participate willingly with the exercises will worry about negative feedback given to the employer. In most cases the feedback will be given for the group and will not focus on individuals. Team building feedback will also usually focus only on positive aspects.
There is absolutely nothing wrong with an employee stating that they did not feel comfortable participating in tasks. Remember, employees will also be given the chance to submit feedback on their views of the day.
Look At the Positive Aspects of the Day
For employees who do not like team building events there may seem more negatives than positives. In actual fact if the event is not taken too seriously there can be something to be gained. This is a chance to get to know other employees outside of the working environment. Creating good relationships between employees will be part of the event and in reality this is one of the positive aspects of these events. Even though there will be role playing one of the best ways to survive a team building day is to simply be yourself.
Viewing a team building event with horror is one way to build the day up into something it is not. This is a work related process that the employer thinks will be beneficial. There is no pressure on the employee whatsoever. In most cases the team building event will be forgotten about a few days after it has taken place. Employees who simply relax and enjoy the day will eliminate much of the stress that they were initially feeling.
You might also like...