Dealing With Sexual Harassment in the Workplace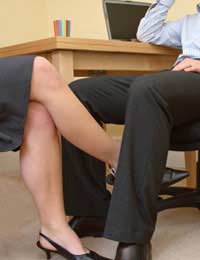 Sexual harassment is against the law, no matter where it occurs. Sexual harassment in the workplace can be a tricky issue to deal with but there are guidelines set out that employers must adhere to.
The Misery Caused by Sexual Harassment
Victims of sexual harassment in the workplace know only too well the embarrassment and misery that this issue can bring. A once harmonious workplace can be turned into a hostile environment due to inappropriate and intimidating behaviour. Sexual harassment can happen to both men and women and can appear as physical, verbal and non verbal harassment. This type of behaviour should never be tolerated and there are guidelines for stopping and reporting sexual harassment in the workplace.
Defining Sexual Harassment
Sexual harassment can take many forms but in general the definitions are:
Remarks and comments that are sexual in nature and unwelcome
Unnecessary and unwanted physical contact including touching, pinching, patting and kissing
Displaying material in the workplace that may be deemed offensive
Sending offensive texts, emails and downloading offensive material
Continually making jokes of a sexual nature that are found offensive by others
Leering at someone or making sexual gestures can be seen as non verbal sexual harassment
Unwanted sexual advances or verbal harassment outside of the workplace
Taking Action against Workplace Sexual Harassment
There are certain steps that can be taken before reporting sexual harassment. The initial step would be to ask the individual who is using inappropriate behaviour to stop. Many people are not even aware that their behaviour is offensive to others and drawing the matter to their attention may be enough to stop it. Victims of harassment can feel uneasy in confronting the perpetrator directly. Quietly talking the matter over with other close work colleagues may be a way to ensure this is the right thing to do.
Making a Complaint over Sexual Harassment
If sexual harassment does not stop after it has been made clear that the behaviour is unwelcome then there may be no alternative but to inform a manager. By law, managers are required to keep their staff safe from this type of harassment. The complaint can be made verbally to the manager or in writing. A copy of the written complaint should always be kept by the victim. If the manager is the person using inappropriate behaviour then a higher member of staff should be informed.
Taking the Harassment Complaint Procedure Further
In some cases the manager may not be able to resolve the harassment issue. If this is the case then it may be that a grievance procedure can be started by the victim. It is required under law that all companies have grievance procedures for this type of complaint. If a company has a union then they should also be able to help individuals with complaints and grievances. A grievance is never an easy thing to do and should be given serious consideration.
Employment Tribunals and Sexual Harassment Cases
Taking a sexual harassment complaint to an employment tribunal is usually a last resort. Employment tribunals are a form of legal action and should not be taken lightly. Employment tribunals are sometimes the only option left if the matter cannot be resolved. Victims should remember that there are set time limits within which action can be taken when using an employment tribunal. Anyone who is considering this action should seek professional legal advice from agencies such as the Citizens Advice Bureau.
Proving Sexual Harassment in the Workplace
Proving sexual harassment can be a tricky business and this is one of the reasons why many victims will simply suffer in silence. Physical evidence such as texts, notes and emails from the perpetrator can also be used as evidence. Witnesses to the harassment will be a major help, and victims should also keep written notes when harassment does occur. An employee does not have to be the actual direct victim of sexual harassment to find the behaviour offensive and can still make a complaint.
Employers are taking a more aggressive stance to wipe out sexual harassment thanks to the laws on sexual harassment. But simply because laws exist does not mean that sexual harassment does not still occur in the workplace. This type of behaviour can seriously alter the victim's life, and incidents should always be reported if they are unwelcome and persistent.
You might also like...