Interviews and Beating the Psychometric Test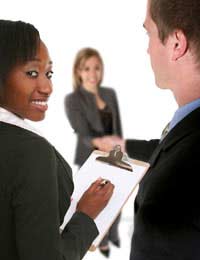 Although their validity is debatable, more and more employers are using psychometric tests as part of the interview process. Psychometric tests are designed to be fair but there are ways for the potential employee to influence the test in their favour.
What Is Psychometric Testing?
There are various forms of psychometric tests on the market through different providers. One of the common objectives of psychometric testing is to gauge a potential employee's personality. These personality tests are designed to allow employers to see how an employee would fit within their company. The outcome of the test should show where the employee's skills lie and if their personality would suit the job role.
How Psychometric Testing Works
One of the most common psychometric tests is the questionnaire with multiple answers. Potential employees will be given a set of questions related to work or personal situations and will choose the answer from different scenarios. The answers are then scored and analysed, usually by computer, and out pops the employee's workplace personality type. Employers can then use this as part of the interview information gathering process.
The Fly in the Psychometric Testing Ointment
There are a number of ways that psychometric tests can fail for employers. One of the biggest problems is that employers do not actually understand how they work. They leave it up to the 'experts' to provide the tests and then take the feedback information as valid. But psychometric tests can be manipulated by the employee to their advantage. Employees simply need to choose the answers that will give the correct personality type for the job they are applying for.
Beating the Psychometric Test
Beating a psychometric test is possible. Although psychometric testers will claim there are no right or wrong answers, the right answers can be favourable to a potential employee. For example, a person applying for a job in customer services will require a helping and caring personality. Answering positively to questions such as 'I am happy to help people whatever the circumstances' will help influence the test towards the favoured personality type.
Psychometric Test Control Questions
Within psychometric tests there will usually be a set of control questions. These are question designed to allow testers to gauge whether or not the applicant is trying to create an overly positive impression. These questions should be answered honestly. Agreeing that you are always happy at work may show that the test is being manipulated from the start. Control questions will appear in some variation of this form:
I have never hurt a work colleague's feelings
I never make mistakes at work
I am always happy at work
I have never brought personal problems to work
I never tell lies to cover mistakes
I am always full of energy at work
I have never felt angry at work
Assessing What the Employer is Looking For
Employee should be aware of the personality attributes needed for the job they are applying for. Psychometric tests will measure an employee's attributes from the answers given to questions. For example, an employee looking to gain a management job should have a 'go getting' personality with leadership qualities. Answer positively to questions that deal with high levels of motivation or the fact that the employee always goes after something they desire. Even if the employee does not possess these qualities the test will show otherwise from the answers given.
Sitting a Pre-Interview Psychometric Test
A good way to maximise the chances of beating a psychometric test is to practice before the interview. There are plenty of free downloadable psychometric tests available on the internet. There are also psychometric testing companies that will charge individuals to take these pre-interview tests. Those considering this route should always ask for proof that these tests have been approved by psychologists; if they haven't been approved don't waste any money. Be aware that business accreditation to practice psychometric testing is not the same as approval from psychologists.
Not everyone is a fan of psychometric testing. Many psychologists claim these tests have little actual validity given the testing questions and the easy manipulation of the tests. If the tests are part of the interview process then it does makes sense for job hunters to do a little research and give themselves the best fighting chance.
You might also like...