Striking a Balance With Family Work Colleagues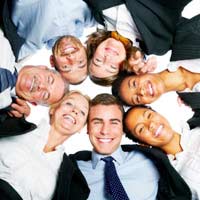 A family business can turn into a minefield when it comes to management issues. Nepotism, power struggles and favouritism are a few of the issues that can cause major headaches within a family business.
The Problem with a Family Run Business
To the non-family employee it usually looks like family employees have the best deal. The boss isn't going to fire their siblings or son or daughter if they mess up, and the word 'nepotism' is often whispered when it comes to promotion. The truth is profits are the bottom line in business, even within a family business. Striking a balance with family work colleagues will mean adhering to rules that apply equally to both family and non family employees. Following these rules should ensure a smoothly run workplace without family squabbling.
Setting Down Family Business Rules
Family run businesses should have a set of established rules from the offset. These rules will usually include issues such as hiring eligibility requirements and conduct within the workplace. These rules shouldn't be kept a secret for family employees only; these are rules for all employees. Many family businesses also have a 'family values' statement within their rules which outline the intent of the business. These business rules should help combat leniency towards rule-breaking family work colleagues and favouritism.
Family Businesses and Birth Order
One issue that often carries over into the family business is the birth order power play problem. Siblings can often be placed in the same pecking order in a family business as they are in the actual family environment. This can cause resentment, especially amongst younger members of the family. It should not just go without saying that the eldest family member is the rule maker and the one in charge. Each family member's place within the business should be dealt with during the business formation to avoid this type of problem occurring.
Human Resources within Family Businesses
Employing Human Resources (HR) personnel can help resolve disgruntled staff issues relating to family employees. The Human Resources officer should ideally be an independent non family member. Non family employees are more likely to bring their problems to an unbiased HR officer than an actual family member of the business. HR personnel are trained to deal with issues and find solutions to conflict problems arising due to family work colleagues.
Rules to Avoid Family Business Conflict
Points to keep in mind to stop family business problems escalating should include:
Avoid nepotism; employees should only be hired on eligibility
Workplace rules should exist for everyone equally and this includes family members
When it comes to rule breaking there should be no extra leniency shown towards family members
Don't let personal family problems overlap into business life and vice versa
Office policies and rules should be set during business formation and given to all members of staff
Family members should not be treated differently when it comes to staff training, education and development
Poor Performance by Family Work Colleagues
Poor work performance should be addressed immediately whether it is a family member or not. Many family employees feel they should be entitled to 'extra chances' simply because of their status within the family business. This can be a source of enormous frustration for non family employees. Poor work performance and personal problems that are brought into the workplace are serious issues. Family employees should be treated no differently from any other employees if these problems do arise.
A Golden Rule for Family Business Employers
Like it or not, senior family members who run a business may have a tendency to treat family work colleagues differently. Favouritism with family work colleagues is a tricky situation to deal with, especially when it comes to disciplinary procedures. One way for an employer to change this mindset is to consider how they would deal with an employee if they were not a family member. It may be difficult, but treating family employees equally will save a lot of disgruntled feelings from non family employees.
Avoiding business problems that arise due to family conflict is simply going to damage a business in the long run. If these issues do arise it is wiser to deal with them immediately. If a solution cannot be found to family conflicts within a business then consider employing an independent mediator. A mediator employed on an 'as needed' basis may be the best solution to this common business problem.
You might also like...