How much to tell Colleagues about Your Personal Life?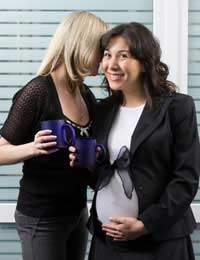 How Much to Tell Colleagues About Your Personal Life
Never let the joys of office gossip be underestimated. Oh, to hear a little gem about Mike in accounts and his choice of weekend 'activities' or Carol in HR with her twelve cats. Chinese whispers abound around the water cooler, not to mention the printer, coffee machine and ladies loo.
While it can be so very tempting to 'casually mention' a salubrious titbit to your colleagues over lunch, don't forget that your next misdemeanour or secret will be just as appealing to get passed around quicker than you can say 'reply to all'.
It Could be You
As Dolly Parton, voice of much underestimated wisdom, says, "Don't look in my closet till you've cleared out your own." While she is not a professional careers advisor, it is a good line to remember. Anything you have gossiped about while your life is ticking on nicely has a horrible habit of making other people feel happy to spread your woes when real life bites you.
You may feel that you have one or two trusted colleagues and your present personal situation could be a problem halved if you could only share it. In this case, pop out for a lunchtime sandwich together and pour your heart out, safe in the knowledge that they will give you good advice and not spill your beans to anyone else.
Get it in Perspective
If you are more the type of person that keeps work and private lives separate (probably best in the long run) then, depending on the circumstances, either phone in sick or grin and bare it. If your current personal issue is a relatively small problem - boyfriend trouble or issues with flatmates, for example, then you could just be kind to yourself and let it pass. Concentrate on your work, treat yourself to your favourite lunch and don't do any overtime. If it is more serious - marriage crises or family illness, say, then you may prefer to take a day or two off, perhaps under the guise of illness or, better yet, be honest with your line manager or HR manager and request total confidentiality.
Act Appropriately
You may be reading this without a particular issue in mind and just wanting guidance on how much to bring your personality and home life into your working environment. Only you can decide how much you are comfortable with your colleagues knowing about you - some people see their work life as a relaxed, enjoyable place where they earn money and talk to friends. In this instance, it may be quite appropriate to share details of your home life, preferences and hobbies. Maybe your colleagues have pictures up around their desks and are always sharing personal information. Alternatively, your place of work may be a more conservative environment where people keep focused on the task at hand and keep their private lives private.
Both options are possible and acceptable, what you need to decide is what you are comfortable with and what is considered the 'done thing' by your employers. It is no good being the square in the corner of a lively, friendly office any more that it is the way forward to be the office gossip sharing all the details of your latest indiscrete liaison when you work with people you only know by their surname.
You might also like...