How to Handle the Maternity Leave Workload of a Colleague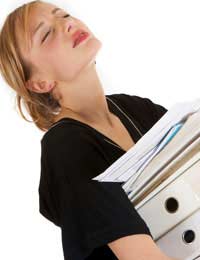 How to Handle the Maternity Leave Workload of a Colleague
If we're allowed to talk frankly for a moment, it might be worth us all admitting that it can be really hard to be the person left behind when your colleague goes on maternity leave. Of course we all know it's a happy time and it's a life changing experience and it's the creation of a wonderful new human and all those great things, but this is a working relationships advice website and we need to tell it like it is.
Be Happy for Them, be Kind to Yourself
The hardest part is not looking like you're bitter and twisted, especially as pregnancy and maternity leave issues are well covered in HR rules and regulations. Rightly so, of course, but there doesn't seem to be much on the side of the colleagues who have to do loads more work with none of the time off and presents.
So, assuming you are the one left behind, you are a good person who wants to support your colleague but do not want to do loads more work for no personal benefit, let's think of some practical, positive tips.
Understand as much as possible about what will be expected of you BEFORE they go on maternity leave. Ideally, have a chat with the person leaving and your line manager. That way everything will be out in the open. The key cause for stress at this time is the extra work just 'falling' on your desk with nothing agreed beforehand. Make notes and email them to both of them after the meeting.
Don't be a martyr – clarify what is your responsibility and, if you are happy with it, get on with it in good grace.
If you feel there will be too much on your plate, talk about getting in a temp for the necessary time. Be helpful – offer to be part of the interview panel or say you will help train them.
Before your colleague goes on maternity leave, be gracious about asking how they feel and be interested when they talk about scans and appointments. However, don't feel like you have to discuss every kick and craving – you are there to work.
5) Chip in to the maternity/new baby present, or even offer to buy it. Write a nice message in the card. When she comes in to show off the baby make an effort to say how lovely the little one is and how great she looks.
Speak Up
The actual workload may be a more complicated issue than just being positive, supportive, and enthusiastic, although, if you read the first point above, you should be clear on how to establish the set up. It may be that you have done all the right things but still feel like you have too much on your plate, with it being assumed that you can handle the additional workload until your colleague returns, which of course doesn't always even happen.
This is one of those situations that will not change unless you change it – if you don't speak up about having too much on your plate, your line manager will believe that you are happy and will not offer alternatives. You could ask to have five minutes with them and say that, although it seems like you would be able to take on x's workload before they went on maternity leave, now you have been doing it for two weeks, or whatever, it is clear that you are not able to effectively complete two people's jobs. With maternity leave being a minimum of six months, you owe it to yourself to nip this in the bud before it starts to look like you are not doing your own job, rather than the truth.
You might also like...