Should You Help Out a Colleague?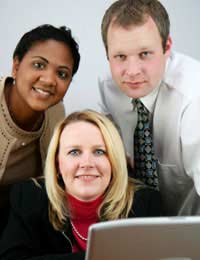 The issue of 'helping' in the workplace is a minefield, as it is in our every day live. Without getting into the philosophical questions, it is a good starting point to think why you do or do not want to help.
It can often be easier to help someone else and get that warm glow of appreciation, rather than concentrate on your own workload, especially if your current to-do list is rather tedious. However, that 'warm fuzzy' is not to be underestimated and, indeed, it can make the work environment that bit more cooperative and supportive.
If your colleague has asked for your help and you have the time and resources to be able to give it, without jeopardising your own workload, then, sure, go ahead. You may find that getting involved in their project introduces you to people in other departments, other areas of the business or new skills, like presentations or report research. This is a good way to be recognised outside of your own remit, which in turn can give you some examples of how you have added value to your role for future appraisals. If you are open minded about career progression, you may even find that you so enjoy the new tasks that you have a clearer picture of the direction you would like your role to develop.
If your colleague has asked for your help but you know that you should really be concentrating on your own job, have a think as to whether you could offer some assistance that will not interfere with your work, or if you need to, kindly but firmly, say no.
You may feel that their work friendship and cooperation is important to you and they would not ask unless they really needed your help. In which case, you could say 'I am really busy with the x project at the moment. What is the key part of the project that you need my help with? I can spend some time on Tuesday lunchtime working on it with you.' This way, you are taking their request seriously, putting a time frame on how long you are able to help for and asking them to identify where your skills would be most valuable.
If you know that you do not have the time to help and cannot see a mercenary-or-otherwise reason for helping, it is important to say so as early as possible, so you colleague will have time to ask someone else. Also, do not forget that there may be a time in the future when you could do with their help yourself, so give a valid reason and say it politely. You could try, 'This x project is taking up every minute so I can't help on this one. Remember me for next time, though, as I should be less manic in a few weeks.'
It is important to keep positive, flexible and approachable in the workplace, so helping a colleague can highlight your supportive, proactive character. There can be a number of reasons why they needs your help and a number of reasons why you should or should not help. The key here is to identify if you have the time or inclination to help and remember that you may be the one who needs urgent help on another project.
You might also like...