How to make a Good First Impression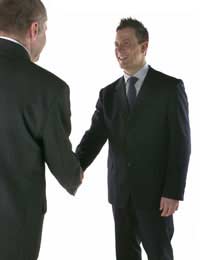 The first impression you make in your new job will be hard to shift - this can work for you or against you, so make sure you are prepared to put your best foot forward on your first day.
It goes without saying that you should be on time, wear a clean, ironed shirt and not be hung over, but what about the less obvious top tips in creating a good first impression?
It makes sense to see your first day in a holistic sense - think in advance about what makes you feel confident, professional and well prepared and use these ideas in the week or so before your first day.
Look Good, Feel Good
Start with how you look - if you feel confident with your appearance on your first day, you will have one less thing to worry about. You could have a haircut and make sure your roots aren't showing. Cast a critical eye over your best suit and check for missing buttons, dropped hems and dried on boiled egg. Fix anything that needs fixing then take it to the dry cleaners. Do try on the suit if you've not worn it for a while, it may be that it doesn't fit or the style is outdated and makes you feel self-conscious rather than the confident go-getter we're aiming for. This will give you plenty of time to buy a new suit - it doesn't have to cost a fortune as many high street shops have excellent ranges of well-tailored, classic styles. Have a look at your shoes too - a clean, newly heeled if necessary, dark coloured pair of lace up or court shoes will be fine for a corporate environment.
Get Your Mind Right
Secondly, think about some mental preparation in the week before you start - get plenty of early nights and look after yourself with healthy food and exercise. The first few days in a new job can be extra tiring, as everything is new, so build up your energy.
The third area of preparation is the practical stuff - you could run through the journey to your new place of work, check out parking nearby or make sure your travel pass is for the right zone.
On the first day of your new job, leave plenty of time to get ready, have a good breakfast (porridge or wholemeal toast are good choices as you wont know the office set up for lunch breaks yet and this will stop your tummy rumbling) and do a final check of your hair, suit and shoes. Have a copy of your CV, bank details and personal information with you in case HR are desperately organised and need it on your first day.
Allow lots of time for the journey - it always takes longer to get somewhere you don't know and you don't want to arrive stressed out.
Open the Door on Your First Day
When you get to the new office, take a deep breath and introduce yourself to the receptionist. Take care to be friendly because they will inevitably report back, not just to the boss but new colleagues too. Be ready with a firm handshake and an eye-contact smile when your new boss meets you. Good luck!
You might also like...