What to Do When You know a Colleague is Attending Job Interviews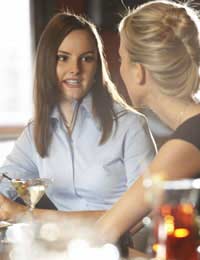 A key factor in working relationships is that you are going to like some people more than others. It is inevitable that you will form strong bonds with maybe one or two colleagues, enjoy banter or after work drinks with a handful more and happily nod hello to most others.
It is hard to make blanket rules on dealing with colleagues in tricky situations because you will have more loyalty to some and may quite readily drop others right in it. Of course, there are plenty of people you work with that don't really fit in either camp - you don't want to be the cause of getting them in trouble but you wouldn't want to go out of your way to help out either.
How Did You Find Out?
So, in the case of finding out that someone you work with is going for other interviews, it would be a good idea to assess how to deal with it by first looking at the way in which you found out this was going on.
When it's Your Friend Going for Interviews
It may be that a friend at work has told you in confidence that they are starting to look around for a new job, or that they have an interview coming up. Assuming it is not your family's company (in which case your loyalty would most likely be to the good of the family), it is best for you to treat this as you would if it were any other friend telling you the same thing. This means that you should be supportive, encouraging and, above all, confidential. It would be a good idea to say to your friend that you shouldn't talk about their job search at work. If you are in different departments, definitely no emails or phone calls at work! You never know who is listening or looking at your correspondence at work, which they are quite likely to have every right to do. Get a hotmail account and text from your mobiles if you have too, but this is really unprofessional. If you are in the same department or office, do not get into the habit of having secretive conversations about your friend's interview progression and going quite if someone comes near. You will just annoy your colleagues and make them a lot less likely to help you out if you need their cooperation later. You could suggest to your colleague that you go for a glass of wine after work and talk about it on the day of the interview, although either chose a bar that your other work mates do not go to or wait until you are the only two from work there. Unless it is common practice in your work place, it can look very obvious that you two are being sneaky.
If it's Just 'the Bloke from Accounts'
If the colleague in question is someone that you do not have a particularly close relationship with, the best way to handle the situation will depend on how you came to know that they were going for other interviews. Perhaps you saw them in a suit at the tube station one morning on a day they were supposedly off sick, or the company they have the interview with is where your boyfriend works. If it was a random reason and their leaving will not affect your job in any negative way, just keep quiet. The tricky part of this will be keeping that nugget of juicy office gossip to yourself, but it could come back to haunt you if you blab.
If the reason you know is not quite so random - they actually told you in the canteen or asked you to act as a referee for example, it depends on how comfortable you feel knowing this information. You may feel able to just fulfil the role of confident and offer support because the colleague in question may not want to confide in someone at work they are closer to. If you are not happy about discussing their interviews, it would be advisable to tell them that you wish them the best of luck but would rather not know any more.
You might also like...