How to Approach a Colleague You know is Making Mistakes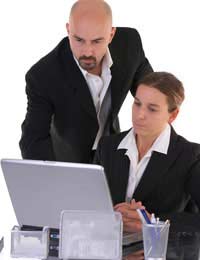 You would think that trying to stop a colleague from either making a fool of themselves, getting sacked, or both, would be a good thing to do. That your colleague would be grateful and appreciative and all misdemeanours would be resolved, with the powers that be being none the wiser.
But this, of course, is not really how it works out in practice.
The reality is more like the colleague is annoyed by you sticking your nose in, perhaps even getting you implicated and so you end up looking like the goody two shoes/sneak who gets involved in everyone's business, which is not likely to earn you any kind of valuable work points.
So, let's take a step back and think how you can do the right thing, without it turning into the wrong thing for you.
This may be a good time to work out why you are actually bothered by it, it may be that this colleague is having an impact on your working life and potential career progression. Or it may be that you are really rather bored and work and this minor soap opera featuring your mistake-making colleague is filling your time. If it is the former, you must speak up (more on that later) but if it is the latter, perhaps you should get your own job prospects in order instead of picking holes in someone else's. It can be all too easy to get hung up on an issue at work, when you should be applying for new jobs or working harder to make the best of your current role.
Let's look at the first scenario - perhaps you have overheard your colleague on the phone and know that the information was wrong, or maybe you have seen them working on a draft which does not address the needs of the project. You, too, are involved in the project and know that this situation will hold up the entire process, making working life tough. How you deal with this really depends on your view of the colleague making the mistakes - do you like them? Are they good to work with? Do you think they would support you if the situation were reversed? If you have answered 'yes' and value their friendship, it may be worth starting the dialogue by suggesting you go for a coffee together, or just catch them away from their desk for five minutes. You can say, "I'm sorry to stick my nose in but I think the x report doesn't address the objectives we identified in the meeting. Do you want to talk about it?"
If you answered 'no' and don't feel as though this person would support you, or they have been difficult to work with, it may backfire if you try to be 'helpful'. You could send a short email to say 'Just heard you talking to x - do you remember the report is supposed to be focused on y?' You may find that if you try to be decent and get them out of a potential hole, your working relationship may improve. Of course, there is always the 'say nothing and let them fall flat on their face' option, but this should only be used in circumstances where the colleague in question has been horrible to you and nobody else knows that you could have saved it.
The second scenario is using this problematic colleague as a diversionary tactic for your own boredom at work. If you are able to recognise this, use the difficulty as an incentive to find a job where you barely even notice petty details because you are so enjoying your own work.
You might also like...