Conference Call Etiquette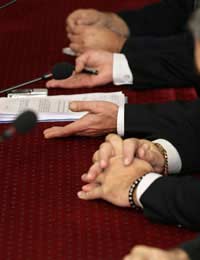 Just the very mention of a conference call can strike fear into the most experienced and competent of people.
Those stilted conversations, the strange grey triangle phone and the lack of understanding British humour.
Not to mention the colleague who desperately tries to talk the most, sucking up to the boss, or the international colleague whose accent you can't understand.
Yes, conference call etiquette is a much forgotten work place issue and one which we hope to explain in this article.
Preparation is Key
As the very nature of a conference call requires a certain number of people to be in a certain place at a certain time, it is likely that you will have plenty of notice to prepare for the call.
It may be that your office has a set day and time each week to speak with an international office, or a member of staff in another location. If this is the case, the first call you are part of will be the most embarrassing. That may sound a bit dramatic, but rest assured that the first conference call you are involved with will be the worst as you have yet to learn the little looks, delays and enforced laughter that are all part of conference call etiquette.
A New Way of Talking
In order to lessen the impact of your first conference call experience, first you must accept that this is an entirely other worldly experience, one in which people talk in a whole new manner. In order to not look like you are poking fun at your colleagues or not taking your job seriously, you will need to talk the same. Try to imagine that you are being interviewed on radio – the pace of conversation needs to be clear to those at the other end, rather than for those in the room. Of course, how you come across to those in the room is important too as it will inevitably be your boss, plus significant others.
The preparation for your first conference call should also include understanding the subject which is to be discussed. If it is a weekly project update type call, make sure you know the details of the project and any specific areas you are responsible for. If it is a call to discuss a set topic, make sure you ask the person hosting the call, or your boss, what the purpose of the call is and what they hope to achieve from it.
Understand Who You are Talking To and if They Can See You, Too
Conference calls tend to include senior members of staff and can be both in-house calls between offices and calls to and from clients. This is fast becoming a more green, cost effective way for international communication, so can involve all sorts of technology – video conferencing is gaining popularity, so personal presentation needs to be considered here too.
On a practical level, if you have notes that you have prepared yourself or been given by a colleague, do not rustle them, or cough, or shuffle about. These noises can be picked up and will irritate the colleagues who are in the same room as you.
If you are asked a direct question and can feel everyone looking at you, take a deep breath and remember that you are fully prepared. You will know the answer, so you can say 'I'm just consulting my notes' if you need to buy some time. Speak clearly, with your face in the direction of the crazy triangle phone. Don't make jokes or over explain.
After your first conference call, you will be far better equipped to prepare yourself for subsequent calls.
You might also like...