How to Speak up in Meetings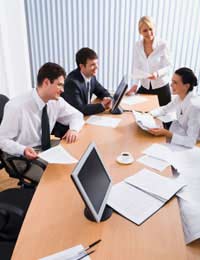 In order to gain the respect and career progression you deserve, you will need to learn how to speak up in meetings.
How you perform in a variety of workplace situations will be what the majority of your colleagues will base their opinion of you on, so it is imperative that you are prepared for meetings.
There are a number of reasons why you may find it tricky to speak up in meetings – overpowering colleagues, lack of confidence, inadequately prepared or unmotivated for example. You may feel like, even if you raise a good point, your contributions are not considered or valued.
If you can first take some time to identify why you are finding it hard to get involved in meetings, then we will be able to offer some advice as to how to overcome your difficulty.
Below we will deal with some of the examples and suggest methods for dealing with the problems.
You Have Overpowering Colleagues
There is always at least one loudmouth in every office, so it could be just your luck to get saddled with him/her in your team. If you are finding that their character is dominating the meetings, either as a whole or just in terms of making you feel unable to make your point, then there is probably someone else in your organisation that feels the same. If you have any influence over the actual times of the meeting, you could perhaps try to arrange the next one at a time you know the loudmouth cannot attend – check their diary if you can or see if they have a day off. You will then be able to show (and make sure you do) that you have valuable contributions to make, it has just been difficult previously. Don't make a big deal of it, just be more proactive.
Another option would be to make sure you are so well emotionally prepared before the meeting that you feel 'ready' for their inevitable behaviour and can act accordingly, rather than just allow them to control the meeting. You will need to be feeling very strong. You could say, "I'd like to add…" or "My view would be…" or "We could look at it this way…" and then make your comments. Do not sound weak, or subservient.
You Lack Confidence
The confidence issue is one which is likely to be affecting other areas of your work, although you may feel it is most noticeable in meetings, rather than when you can just get on with your job. You would be wise to address this in order to maximise your career potential. You could start by joining a social team at work, if there is one, or make an effort to join the team when they go for drinks after work. See where other people go for lunch, or join a table of colleagues in the canteen. These steps will enable you to feel more a part of something at work and will have the knock on effect of ensuring you have good will from your colleagues in meetings.
You Are Inadequately Prepared
This is the one which is easiest to deal with, on the surface, because you can put effort into improving your meeting preparation so you are able to make valuable contributions in meetings and be involved in general project discussions. However, if the reason that you are unprepared is because you are not enjoying your job and are totally unmotivated, it may be that this is a manifestation of your issues. This could be a 'chicken and egg' situation – the better prepared you are, the better feedback you will get, the more involved you will feel, and the more you will enjoy your job. But it could also be a subconscious call to be 'found out' so you have to address your dislike of your work, through either getting a warning or handing in your notice. This is the most inactive, passive way to deal with your career and you will feel worse if you do not address how you feel. Take time to work out if you want to stay in this job and work on your involvement, or decide to look for a new role.
You might also like...