Preparing for Your Three Month Review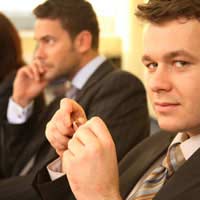 It is important to see your three month review as a two way street – it is not only for your new company to assess how your early days in the job have progressed, but also for you to take a clear look at whether the company is providing you with the career opportunities you require.
It may not be a good idea to say this in the review. You may prefer to just keep that to yourself, because it is something that will not win you any supporters in the workplace, even though it is of the utmost importance for you to remember for your own personal development.
Assuming you are keen to continue in your job and feel positive about your first three months, let's talk about the best ways to prepare for your upcoming review.
There is likely to be a set format for the three month review – this often starts with a conversation between you, your line manager and other senior managers, perhaps the MD or HR manager. They will ask you how you feel your first three months have gone, what you have achieved, how well you are enjoying the role, any problems you have faced.
You will then perhaps be expected to make a short presentation to the group.
Your presentation will then be assessed, perhaps with a question and answer type focus.
Make sure to ask your line manager or HR manager what format the review will take so you are able to prepare yourself – for example, ask what equipment you can use for the presentation, how long it is expected to be, who will be in the meeting. When you have the information you can be better prepared – if, for example, you can use a flip chart, think about what visuals you could use, or if handouts would be appropriate.
Talk to colleagues in similar roles to you and ask what happened in their three month reviews – was there anything they wised they had or had not done?
Ask to have a chat with your line manager before the review so you can talk through any questions you have about the importance, structure or protocol of the meeting.
Utilise any information on the review in your employee handbook – there may be tips or advice, so use it and take any suggestions into consideration.
Be appropriate – if yours is a creative industry, think how you can make your presentation stand out. If you are in a strict corporate environment, make sure your pitch is suited to the company.
Have questions ready – think about a positive sounding issue you could raise, or how you may instigate a new project in the future.
Think about what you may be criticised for – if at all possible, address these issues before your review.
Try to understand how important your review is in your particular company – in some organisations, people can be asked to leave after a poor review, with little notice, in others, it is a chance to talk about your first three months but is not considered a deal breaker.
Bare in mind that, if you have been recruited through an agency, they will only receive their full commission after you have completed three months in your new job, so do not expect your recruitment consultant to give you unbiased advice in you are unhappy in your job. The will be trying to make sure you stick it out for at least three months. If you want to leave before that, get advice from another consultant, friends or family.
Make sure you are well rested and well presented on the day itself – perhaps a new tie, blouse or haircut will help you feel positive.
You might also like...