What to Say when a Colleague has Poor Personal Hygiene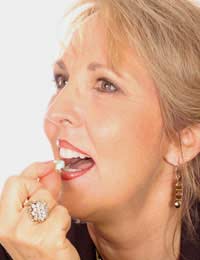 There is no point suggesting that this is an easy situation to deal with and, indeed, many people would not deal with it at all.
It could be far more tempting to just avoid the colleague in question, perhaps even make school boy gags about needing to buy deodorant or polo mints.
Do the Right Thing
However, as you are reading this, let's assume that you do not want to take the unkind, childish option and actually want to do the right thing in a decent, respectable manner.
Before you set yourself up to be told to mind your own business, it is worth assessing just how bad your colleague's poor personal hygiene is – we may all have been guilty on one time or another of coming into work after a particularly garlicky meal or with eau de pub on our suit jacket. If this is the case, it may be entirely appropriate to say 'You could do with one of these' while handing over a packet of extra strong mints, or a squirt of your perfume.
If, however, your colleague is getting a bit of a reputation for their terrible breath/body odour/suit cleanliness and it is starting to reflect badly on their work and in turn, your company, then, as long as you tread carefully and do not just blurt out 'You STINK!' in front of the whole office, you will be able to help.
Have a Private Chat
There is nothing to be gained by being unkind. You could start by seeing if you are able to recognise at what time they leave work, or go for lunch and try to join them. Make sure that you have this conversation one to one because no one is so confident that they want an audience when being told this sort of thing.
If you know what time they leave the office to walk to the tube or car park, one day you could make sure you are leaving at the same time and just fall into step with them. After the pleasantries, you could say 'I'm going to have to tell you something because I would want someone to tell me' - this lets you assess their reaction and stops it being quite so embarrassing. Follow this with 'There's a really good dry cleaners on the way to the bank' or 'I keep this mouthwash in my bag and I feel so much more confident if I use it before meetings'. They will probably get the hint and appreciate your carefulness – if they ask you any more, help as much as you can. If they just change the subject, don't push it. It is likely they have taken the hint and will deal with it themselves.
Don't Make it Worse
Be prepared that, however gently you put it, your colleague is rather likely to be mortified. This is why you have only got the walk to the car park – 'Here's my car, see you tomorrow', or the tube station, 'I've got to get a ticket/magazine/drink first, you go on ahead' – before you go your own way and let them ruminate without the added shame of you being there.
If, after a few days, it is clear that your colleague has not taken the hint, it may be wise to mention the situation to your superior, but only if you feel that their lack of hygiene is having an impact on anyone other than themselves.
Although it may be tempting to have a good old laugh about it with your friends at work, doing the right thing in a kind, measured way will ultimately make you feel far better than a short lived moment of hilarity at someone else's expense.
You might also like...