How to Work Effectively with Someone You Don't Like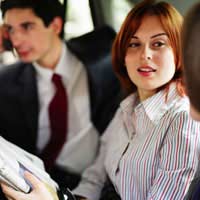 Working in an office can sometimes feel rather like being in a soap opera - all those trials and tribulations of real life can be magnified when you work together. We all know about the office gossip, the goody-goody, the person you really like but know they are terrible at their job or the person who's been there ages and no one is quite sure what they actually do.
You are likely to work with a whole mixture of people, some of whom you will get on with better than others. The problem comes when you have to work with someone you really don't like. There are ways to minimise the stress this brings. Here are some suggestions, depending on the type of person and the manner in which you have to work together.
You are Put on a Project with the Office Lothario
Many offices have one - the bloke who thinks he's God's gift to women, flirts embarrassingly at every opportunity and makes suggestive comments. If you are put on a project with yours, you will need to arm yourself with some coping strategies so you don't spoil your professional situation. You need to start as you mean to go on - if you are brave enough, say 'Now, now, Nigel, don't go playing those tricks on me.' Let him know what you think of him. Alternatively, you can make sure that you do not rise to the bait - he will soon get bored if he isn't getting a response from you.
You Have To Sit Next to the Office Gossip
It can be very hard to sit next to someone you don't like, especially if your job is mainly desk bound. If you're next to a gossip, make sure you have your mobile and silent and either chose to go out and take the call or call back when you can talk freely.
Don't leave your emails open when you go away from your desk - not even just to make a cup of coffee. If they try to engage you in office gossip and you're not comfortable with it, don't embarrass them or you will look stuck up, but just don't feed their habit.
You Have To Work With a Negative Person
This can sound like a small detail, but it is amazing how much negative energy one person gives off. These people always seem to have something to complain about, whether it is important or not. If you are trying to complete a project with their help or if your daily work involves their input, you really need to distance yourself from their lack of encouragement and enthusiasm or the will rub off on you.
First off, prepare yourself for their influence - understand that they are a half empty person. Do not take what they say as red - make sure you look for the positive version of what they are saying. Secondly, disarm them - ask why they see the bad in things, or if they got out of the wrong side of bed that morning. Don't feel like you need to listen to their whingeing or you will get home exhausted everyday and will not progress in your career.
You might also like...