You and Your Friend both Want the Same Promotion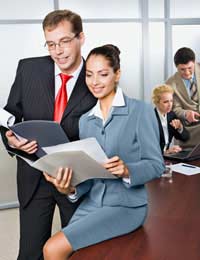 After You…
This situation is rather like holding the door open for someone in a shop. You are more than happy to open the door for the person behind you, or a lady with a pram, but you can easily end up standing there while all sorts of perfectly able, healthy people file past you.
You do not want to be one of those people who would not do anything nice for anyone else, fearing they will be labelled a pushover, but neither do you want to spend your life saying 'after you' if no one says it back.
So let's look at this promotion - What is it? Why do you want it?
Let's assume that the promotion is a very appealing role to both you and your colleague and you are hoping to keep friends with this person. (Of course, if you don't want the promotion or you are not bothered about maintaining a friendship, this is an easier although less pleasant situation.)
…or Me First.
The key piece of advice would be that you are just as entitled to go for a promotion as anyone else and, as your own biggest fan, you owe it to yourself to not only say 'after you' but 'me first' sometimes, too.
You may consider there to be all sorts of variables here - did you or your friend join the company first? Who is better at their job? Does your boss have a favourite? You are right to think of these issues, but it is still important to value your own workplace contributions and understand what benefits gaining this new promotion would bring, over and above any other circumstances.
The Promotion Project
Now may be a good time to spend an hour at home thinking about what added value you bring to your work place - think about projects you have worked on, targets you have reached, problems you have over come and good ideas you have contributed. Write them all down and think of the points in relation to the promotion available - are there particular skills you have that will bring something extra to the role? Have you shown attributes in your job already that are required for the new position?
Keep these notes to hand so you can re-read them. This will enable you to feel comfortable with the facts and be able to talk eloquently when the promotion interview or discussion happens. See gaining the promotion as a project in itself, research and be prepared.
Another suggestion at this point would be to talk to your colleague - if they are a friend and you both know that you are applying for the position, it would help to have a chat about it. If, however, you are not aware that your friend wants to apply for the promotion, it may be that you do not need to discuss it. You may want to be totally upfront and say 'I've applied for the x position' and either ask if they know about it or just see what they say.
If you know that your colleague is aware of the position, it would be preferable to mention the fact that you, too, are applying. If the subject comes up, a casual 'may the best man win' comment would show your intentions. Your colleague may feel that they are more entitled to the promotion or be offended that you are applying for a role they see as rightfully theirs. It is at this point that you ought to re-read the first paragraphs of this article and ask yourself if you would speak to a 'friend' like that. Go for it!
You might also like...