When a Colleague Keeps Taking the Credit for Your Work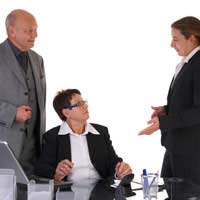 What to Do When a Colleague Keeps Taking the Credit for Your Work
It can be difficult enough as it is to get ahead in the workplace without having a sneaky colleague taking credit for your work. But, as it does happen, it is better to arm yourself with a few tips on how to deal with it in a professional, non-bitter way, rather than just quietly seethe at the fact that your hard work is going unnoticed.
As ever, the first thing to do is 'get your facts straight' – you cannot go bulldozing your way into a potentially tricky situation without knowing exactly what is going on. It may be that you are totally clear what is going on because every time your part of the project is positively mentioned in meetings, your superior, line manager or sneaky colleague blatantly doesn't mention you and basks in the glory themselves.
Or, it may be that you do not get to attend these meetings but you are getting rather suspicious that no one has mentioned your part of the assignment to you, while you know full well that you are working hard and adding value to the project.
If, for example, a senior colleague is clearly not acknowledging your part of the project, yet they are fully aware of your contribution, it may be simply a case of you taking responsibility for speaking up more in meetings. If they are obviously taking the credit for your work, next time you could say something simple, like 'That part took me ages' or perhaps, 'I'm really pleased with how that turned out'. This may be enough to let your colleague know that you will not put up with it and will also highlight your contribution to other team members.
If the situation is happening when you are not present in meetings, it may be a good idea to see if you can add your name to the report before it goes into the discussion. Another option would be to try to position yourself next to someone else who is present in the meetings, perhaps at the coffee machine or in the canteen queue. Here, you could say, 'I've spent all morning on the x report, ready for the Tuesday meeting' or 'I should have the x report finished by this afternoon.' Which will either open a dialogue about the project or simply highlight that you are involved.
These suggestions are focused on small but clear comments that you can make in order for your contribution to be brought out into the open, but if you are finding that the colleague who is taking the credit for your hard work is more of a malicious type, you may need to take stronger action. Don't forget, your involvement in projects is likely to have a clear impact on your next review, potential pay rise and promotions. So, when you feel unable to speak up in a meeting, try to picture the holiday, designer handbag or gym membership that will be harder to afford. Not only that, but your general happiness and job satisfaction will be eroded, making it less likely that you will feel confident to speak up in the future. You owe it to yourself!
So, if your colleague is beyond sneaky and could even be described as a 'piece of work', you need to think smarter. It is rather like a school bully – they are the king of the castle until someone disarms them by standing up to them. If you are feeling strong, go directly to the problem colleague on a normal work day, stand beside their desk and say 'It's a real shame you didn't acknowledge my contribution to the x project in the meeting this morning.' They will probably act like they didn't realise, but you can continue with 'I'm sure you'll make it clear in the next meeting.'
If you are not feeling quite so strong, but still rattled none the less, you could send an email to the same effect.
The final option is to go direct to your line manager, or, if the problem colleague is your line manager, their boss or your HR department. However, if you learn how to handle these common types of problem colleague, you will be able to deal with this issue and gain the recognition you deserve.
You might also like...